Children's Trails, Activities & Play Area
.
Bring your Little ones to explore our 3 acre garden with lots to 'discover'
At the garden entrance there is 'Dressing up' suitable for all ages (including adults); Choose from Fairy wings, head-dresses, butterfly masks, Gnome hats, Gnome Jackets and trail themed items to create your own character (please share pictures of them on your social media with our blessing).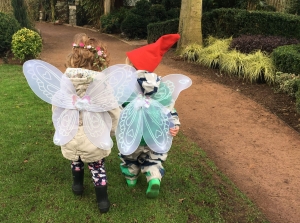 Entrance to the gardens;
Adults £4.50, Children ages 2-16 are £2.00 and under 2's are free
Prices may vary for special events 
Themed Trails
Each school holidays we design a themed garden trail for the children including a trail sheet with clues, and interactive elements – a timeline of our past and present events can be found on our Events page, or for the most up to date information please look on our Facebook or Instagram pages.
Prices may vary
In non-school holidays there is always a variety of Fairy gardens and fairy doors to look for. Within the gardens you can 'meet' The Green Man, the Rusted Knight Of Olde, see Excalibur in its Stone, then wander through the 'Fairy Glen to find 'Hobbiton'.
Enter the adventure
Visit our Cave with its swirling mist to find the witches cauldron, then run around the turf labyrinth and make a wish. Stroll through the mown tracks and pathways of the beautiful wild flower meadow then head over to the wildlife area which is open on special days throughout the year for pond dipping and educational days.
Please phone 01299 250720 for any further details on events and activities.
---
Play Areas
Inside the Tearoom there is a dedicated gated children's play area with a selection of toys and a blackboard for them to get creative and draw pictures of what they have seen in the garden (children need to be supervised at all times)
Outside there is a Children's play area and Teagarden, this is accessible without visiting our gardens however is reserved for customers only (presentation of a receipt from anywhere on site that day grants access, and children need to be supervised at all times).
This area has an animal corner where children can watch our animals, there is also a Castle and Boat to play on and a slide, with benches too for adults to relax and watch the children play.
Please note we do not allow picnics ~ only food bought on-site can be consumed in this area.
NB. Children must be supervised by an adult at all times & no dogs are allowed in the play area for safety purposes.