Events at Whitlenge Gardens
.
Here at Whitlenge we are passionate about ensuring the next generation of gardeners – our children – are as keen to get outdoors as we are!
To encourage this we dress the gardens to coincide with school holidays and design child friendly garden trails for them to follow whilst the grown-ups enjoy the tranquillity. There is always lots of fancy dress provided for all the family.
Check out our Timeline Below to see Past and present events.
For the most up to date event information please keep an eye out on our Facebook and Instagram pages
Facebook;         https://www.facebook.com/whitlenge/
Instagram;       @whitlenge_tearoom_gardens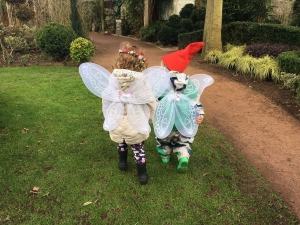 6/4/2020--26/4/2020

Easter Crack the Code Garden Trail

4/4/2020 & 5/4/2020

NGS weekend - Moon door open

15/2 -- 15/3/2020

22/11--23/12/19

Christmas Trail and Santa Visits

30/10--1/11/19

Haloween half term activities

5/10 -- 3/11/19

11/8 -- 12/8

Vikings come to Whitlenge

15/7 -- 1/9/2019

Peter and Wendy in Whitlenge

22/6--23/6/2019

NGS Garden Open For Charity

18/5 -- 16/6/2019

Wildlife Trail - Half Term Week

31/5/2019

Hawk Walk - Falconary Visit

29--30/5/2019

Forest School Taster Session

13/4 -- 5/5/2019

Easter in Wonderland Trail

16/2 -- 24/3/2019

Whitlenge School Of Witchcraft and Wizardry

1/12 -- 23/12/2018

Christmas Sing-A-Long Trail

20/10 -- 4/11/2018

Haloween "WHODUNNIT" Trail

25/8 -- 27/8/2018